Yacht Cost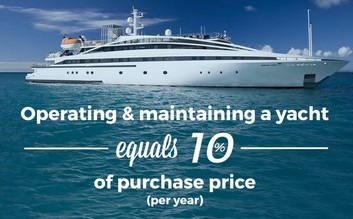 Buy, Maintain, Charter
Are you considering buying a yacht and wondering how much they cost, both to purchase and to maintain?
Purchase Cost
The purchase cost of yachts vary with their age, style, condition, amenities and exponentially - not linearly - with length. This is because double the length means not double but six times the weight and displacement, as well as additional intricacies in engineering and interior design.
For example, new 20-foot yachts cost under $50,000 but 30-foot weekenders run around $200,000 and new 50-foot cruisers around $1 million, while 100 footers top $8-10 million.
The price climbs exponentially for yachts that exceed 100 feet. New 250-foot yachts run $50-70 million.
Zeus
, Larry Ellison's former
Katana
, is in this range.
New 350 to 450-foot megayachts like the
Rising Sun
,
Luna
,
Pelorus
,
Radiant
, a
nd
Microsoft co-founder
Paul Allen's Octopus
cost 3 to 5 times more, between $200 million to $300 million. The 531-foot
Dubai
cost $400 million while the slightly longer
Eclipse
cost $485 million. The 591-foot
Azzam
and the shorter but unusually wide Dilbar III (the successor to
Dilbar II
) both cost about $600 million, while the
Gigayacht
will top $1 billion. The table below lists ten of the longest yachts in the world today.