Dubai Yacht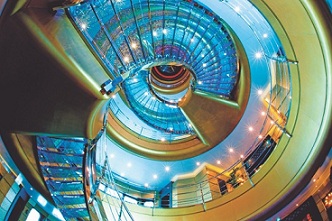 Dubai
's interior is unique even among
megayachts
. The showpiece of
Dubai
's interior is a stunning spiral staircase (right), whose color-changing glass steps turn it into a kaleidoscopic seven-story stairway to
heaven
when natural light floods into the yacht from the top deck.
Designed by the Interior Design and Decoration department of Platinum Yachts,
Dubai
's interior, which features many lounges, dining rooms, hot tubs, etc., accentuates esthetics and relaxed socialization over adrenaline pumping ocean-going adventures. Among
superyachts
,
Dubai
is more a Rolls Royce than a Range Rover.
But that's not to say that
Dubai
is all relaxation and no games, as the yacht does have two water toy rooms full of aquatic sports gear, used mostly by the grandchildren of the current owner, who is approaching 70 years of age.