Million Dollar Paintings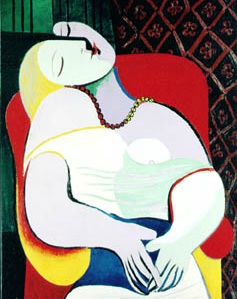 As the current boom in fine art turns million dollar paintings into multi-million dollar paintings seemingly in just a few years, should you invest?
After all, Steve Wynn got more for his
Le Rêve
(right) in 2015 than he was offered before he ripped this Picasso just a few years earlier (see
Priceless Paintings
), while everyone who touched
Salvator Mundi
, which appreciated 350,000,000% in just 59 years, at least doubled their money even after over-paying.
Before placing your anonymous bid for million dollar paintings or even multi-million dollar paintings, please consider this: every minute, 12 babies die from starvation somewhere in the world and the cost to have fed all 12 kids nourishing meal is just over 2 dollars per day (source: World Food Program).