Eclipse Yacht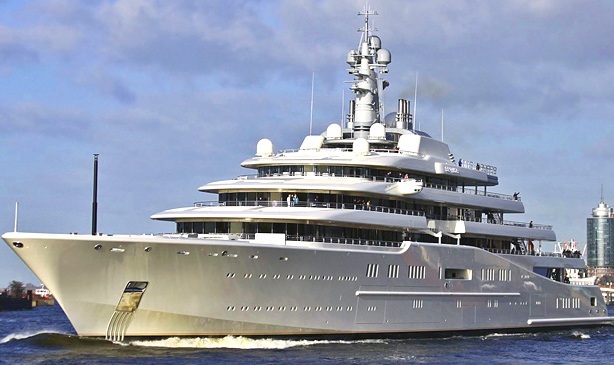 Megayacht Eclipse
The mega-yacht
Eclipse
(above and below) may look as large as a warship, but it isn't.
Eclipse
is in fact larger than a warship. The U.S. Navy's Arleigh Burke class of destroyers are 505 feet (154 meters) long and displace less than 10,000 tons.
Eclipse
, a private yacht, is 533 feet (163 meters) long and displaces about 13,000 tons.
While
Eclipse
lacks cruise missiles and torpedoes, it does have an early missile detection system that gives time for the yacht to change course or for the VIPs to escape.
Eclipse
is equipped with a submarine that can dive to 160 feet, two helicopters and helipads, a medical ward, and armor plating and bulletproof windows around the yacht's bridge and the owner's suite.
Eclipse
also has a discotheque, a movie theater, a fitness center, an aquarium, two swimming pools, several jacuzzis, and fourteen luxury suites that can accommodate up to twenty-eight guests, who are served and protected by a crew of seventy.