The Perfect Diamond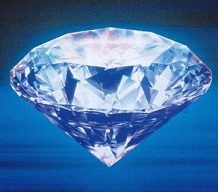 Only a perfect diamond?
High end diamond jewelers will tell you that the diamond you choose for the woman you want to marry should be as perfect as your love for her. In other words, a diamond with imperfections would represent imperfect love, so you should spend more money to buy the perfect diamond.
What makes a diamond "perfect"?
Traditionally, a diamond's degree of perfection or imperfection was measured by the 4 "C"s of clarity, color, cut and carat.
Clarity
A diamond's "clarity" designates its lack of tiny "birthmarks" or "imperfections." A diamond with visible imperfection(s) is designated
"Imperfect"
1, 2 or 3, with "Imperfect 3" having the most visible imperfections.
All other diamonds appear totally free of imperfections to the naked eye but still bear one of eight designations based on how they appear under 10x magnification:
"Small Inclusions"
(SI) 1 and 2,
"Very Small Inclusions"
(VSI) 1 and 2,
"Very Very Small Inclusions
" (VVSI) 1 and 2,
"Internally Flawless,"
and
"Flawless."
Color
A diamond's "color" is designated using the alphabetic characters D to Z to rate their level of yellowish tint. Easily visible yellowish tints are rated S to Z, with Z being the darkest, even though all of them are called,
"Light Yellow."
Lighter yellowish tints are rated N to R and called
"Very Light Yellow,"
while diamonds whose yellowish tint is barely noticeable are rated K to M and called,
"Faint Yellow."
All other clear diamonds appear completely colorless to the naked eye, yet are still given designations. Those that appear slightly yellow under magnification are rated G, H, I or J and called,
"Near Colorless,"
while those that appear colorless even under magnification are called,
"Colorless"
but still rated D, E or F.