Azzam Yacht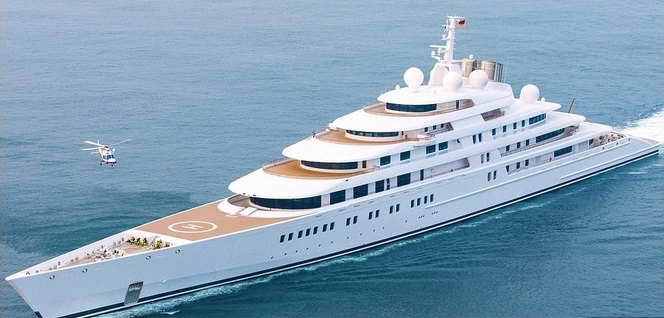 Gigayacht Azzam
Azzam
, which means "determined" in Arabic, is a
Gigayacht
owned by Khalifa bin Zayed Al Nahyan, the emir of Abu Dhabi and president of United Arab Emirates. Since 2013, the following four superlatives have been attributed to this yacht.
1. Azzam is the longest yacht in the world.
Measuring 591 feet (180 meters) from bow to stern,
Azzam
is almost as long as two football fields and 58 feet longer than
Roman Abramovich's Eclipse
, which is now the world's second longest yacht.
2. Azzam is the fastest megayacht in the world.*
Powered by two diesel engines and two gas turbines that combine to generate 94,000 horse power,
Azzam
can attain a top speed of 33 knots, matching the top speed of naval destroyers. But unlike destroyers, which have propellers,
Azzam
's propulsion is via four pump jets, which allow it to have a draft of only 15 feet, which in turn enables it to sail and dock in relatively shallow waters.
(* Among sub-100 meter yachts, the 74 meter-long, 36 knot
Zeus
is the fastest.)
3. Azzam is one of two safest megayachts in the world.**
To protect up to thirty-six guests in eighteen suites, as well as a crew of sixty in thirty cabins,
Azzam
is equipped with a sophisticated defense system that includes missile defense technology and a master suite equipped with armor plating and bulletproof windows. Should the defense system fail, a submarine and a helicopter stand ready to enable escape.