Bill Clinton Timex Watch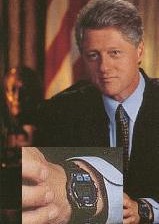 Why imitate the watch of B-listers like Vladimir Putin and Silvio Berlusconi when you can rub wrist watches with the most powerful men in the world, like Presidents Bill Clinton and George Bush?
Meaning what?
When he was the President of the United States, George W. Bush wore a Timex watch. And when Bill Clinton was the US President, he also wore a Timex (right). In fact, Bill Clinton still wears a $50 Timex. When it comes to watches, the ultimate expression of power is an understatement.
So instead of wasting $10,000 or $60,000, let alone $540,000 on
luxury watches
to imitate also-rans, run with the world's most powerful men by wearing a $50 Timex or Swatch, Tissot, Casio or Citizen, and donate the difference to saving lives of those who have no power.
Meaning what?
Every 5 seconds, a child dies from starvation somewhere in the world, and saving that child by feeding him or her a nourishing meal costs only 19 cents per day (source: World Food Program).