"Diamonds Are Forever" Slogan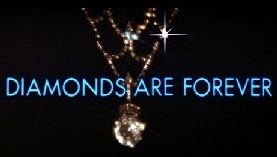 Diamonds became the de facto obligatory stone for engagement rings in the early 20th century when DeBeers, the South African mining giant, coined a brilliant slogan for its advertising campaign, a slogan that branded diamonds as the sign of love forever.
What was the DeBeers' slogan?
"Diamonds Are Forever!"
Are DeBeers diamonds forever, or are any other diamonds forever as DeBeers' slogan declares?
Of course they aren't forever. At best, your diamonds are until you die. At worst, your diamonds are until they get lost, stolen or sold after divorce. DeBeers' slogan is just a crafty marketing ploy to grab your money.