Diamonds Are Forever Slogan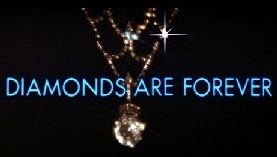 Diamonds became the de facto required stone for engagement rings in the early 20th century when DeBeers, the South African mining giant, coined a brilliant slogan for its advertising campaign, a slogan branded diamonds as the sign of love forever.
What was the DeBeers' slogan?
"Diamonds are forever."
Are DeBeers diamonds forever or any are other diamonds forever as DeBeers' slogan declares?
Of course they aren't forever. At best, your diamonds are until you die. At worst, your diamonds are until they get lost, stolen or sold after divorce. DeBeers' slogan is just a crafty marketing ploy to grab more of your money.
Another question: why are diamonds - little stones - so expensive? Are they really that rare?
The answer is no. There is an area in South Africa, for example, that is estimated to hold 3 to 4 times more diamonds than all of the diamonds on fingers today. That area is mined but not to extract diamonds. It is mined with landmines, fenced with barbed wires and patrolled by guards with orders to shoot trespassers. Why?