Million Dollar Watch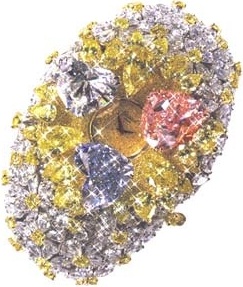 Can a wrist watch really cost a million dollars? Actually, a wrist watch can cost 25 million dollars. Here is the 25 million dollar watch.
What do the 25 million dollars pay for? As you can see, the watch's time piece is almost buried under 3 enormous diamonds - pink, blue and white - that respectively weigh 15, 12 and 11 carats. An additional 163 carats of less enormous yellow and white diamonds cover the strap, which can't even be seen.
The time piece of the 25 million dollar watch, created by Chopard, is a poorly disguised excuse for wrapping and flaunting 201 carats of diamonds around a woman's endangered wrist.
The second most expensive chronometer in history resulted from a 20th century ego fight between Henry Graves, a New York banker, and James Packard, an Ohio car maker. For over a decade, Graves and Packard commissioned custom watches that topped the last one commissioned and worn by the other. The chronometer that eventually won this epic wrist race was a 1933 Patek Philippe that required 3 years to design, 5 years to make and sold at a Sotheby's auction in 1999 for $11,000,000.