Priceless Paintings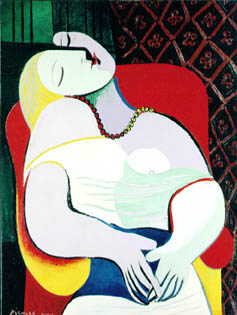 What are "priceless paintings," and can priceless paintings actually be bought?
Priceless paintings are simply very valuable paintings. While there are some truly priceless paintings that cannot be bought, most so-called priceless paintings can be bought if enough money is offered to the paintings' owners.
For example, Vincent van Gogh's 'priceless'
Portrait of Dr. Gachet
, one of van Gogh's last paintings, sold in 1990 for $82.5 million.
Pablo Picasso's
Boy with a Pipe
topped that in 2004 at $104 million, and the current record is the $140 million that Hollywood's David Geffen pocketed in 2006 to part with his 'priceless'
No 5, 1948
by Jackson Pollock.
A close second would have been the $139 million that Las Vegas mogul Steve Wynn was about to receive for Picasso's
Le Reve
(right) in 2006. But days before delivery, the nearly blind Wynn put his elbow through the portrait of Picasso's young mistress while showing it off to guests and punctured it. Although repaired, the damage is visible under black light and the painting is now worth under $100 million, literally "price-less" by at least $40 million.