Kids Wine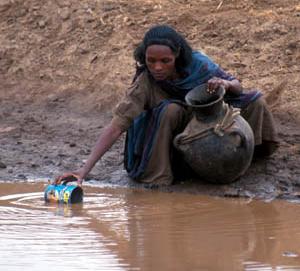 But before spending your hard-earned money on wine, let alone wines like the
1787 Chateau Lafite
, please consider this about kids: every 10 minutes, 120 kids around the world die from starvation and saving those kids by nourishing them costs only 19 cents per day (source: World Food Programme).
If the $24,000, 75cl bottle of
Romanee-Conti
contained 24 sips of wine, that's $1,000 per sip of wine. For the $1,000 that someone spent to take one sip of that wine, over 5,000 kids could have been fed and kept alive, or 175 kids fed for a month and nourished back to health.
Are your wines more in the $240 price range? Each sip of those is worth $10, which could have saved the lives of 50 children or fed 18 of them for a month and nourished them to health. The whole bottle would have saved over 1,200 children or fed 42 of them for a month.
Look at the woman in the photo. That filthy water she is collecting - one in which you wouldn't wash your feet - is for her family, including her children, to drink.