Million Dollar Paintings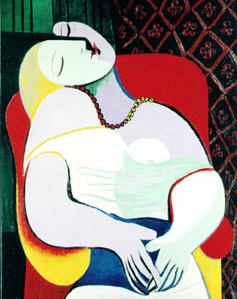 So, you believe the resources for acquiring million dollar paintings, perhaps even the so-called "
priceless paintings
" like the 100 million dollar
Le Reve
(right) by Pablo Picasso, are yours.
But before placing your anonymous bids for those million dollar paintings or even multi-million dollar paintings, please consider this: every minute, 12 babies perish from starvation somewhere in the world and the cost to have fed all 12 kids nourishing meal is just over 2 dollars per day (source: World Food Program).
For the price of even a $10,000 painting, you can save the lives of 1,800 babies and nourish them to health by feeding them for a month. For the price of a quarter million dollar paintings, you can save 45,000 kids by feeding them for a month.
For $1 million, that number rises to 175,000 children. And for his $100 million
Le Reve
, Steve Wynn could have saved the lives of over 24 million children.
You buy art because you take joy in their beauty, right? Wouldn't you derive even more joy in the beauty of saving the lives of thousands or even millions of innocent children?