Perfect Diamond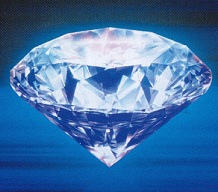 Is there such a thing as a perfect diamond, and if so, what makes a diamond perfect?
Traditionally, a diamond's level of perfect
ion or im
perfection has been measured by the 4 "C"s - clarity, cut, color and carat - of the diamond. Let's start with clarity.
Diamonds' "clarity" designate their lack of tiny "birthmarks" or "im
perfect
ions". Diamond
s with visible birthmark(s) are designated "Im
perfect" 1, 2 or 3, with "Imperfect 3" having the most visible birthmarks.
All other diamond
s appear perfect
ly free of birthmarks to the naked eye but still bear one of eight other designations based on how they appear under 10x magnification: "Small Inclusions" (SI) 1 and 2, "Very Small Inclusions" (VSI) 1 and 2, "Very Very Small Inclusions" (VVSI) 1 and 2, "Internally Flawless", and "Flawless".
Diamonds' "color" use the alphabetic characters from D to Z to rate their levels of yellowish tint. Easily visible yellowish tints are rated S to Z, with Z being the darkest, even though all of them are called, "Light Yellow". Lighter yellowish tints are rated N to R and called "Very Light Yellow", while diamonds whose yellowish tint is barely noticeable are rated K to M and called, "Faint Yellow".