Enigma Yacht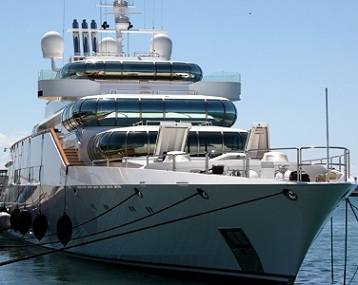 The motor
yacht
Enigma
is Larry Ellison's former
yacht Katana
renamed by Aidan Barclay, its new owner. Why did Aidan Barclay rename his newly-acquired yacht, "
Enigma
"?
The answer remains an enigma, but what is well known about Enigma is that it is a very fast yacht. In fact,
Enigma
is the fastest yacht of its size, with a top speed of 34 knots, which is equal to about 39 miles per hour.
The boat's speed is by design. Every detail of
Enigma
(right) was intended to make the yacht fast, right down to her aerodynamic convex windows that minimize wind resistance.
Designed by Francis Design and built in northern Germany by Blohm & Voss Shipyards of Hamburg, this motoryacht is powered by a 19,000 horse power General Electric LM1600 gas turbine engine, as well as two smaller Deutz BV16M68 diesel engines. The combined propulsion exceeds 28,000 horse power.