Dilbar Yacht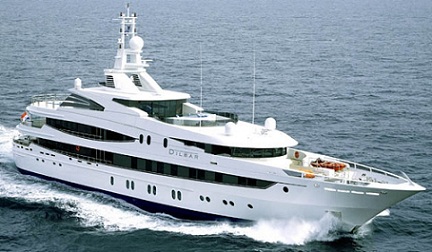 Dilbar
is a big motor yacht owned by Alisher Usmanov*, a Russian tycoon, who named the yacht after his mother, Dilbar.
Dilbar yacht
weighs over 4,000 tons and is 360 feet long, which is equivalent to 120 meters. The yacht flies the flag of the Cayman Islands, can accommodate 18 guests in nine suites, and requires a crew of forty-six to operate.
Launched in 2008, Dilbar has two helipads and twin screws, each propelled by an MTU diesel motor, and can hit maximum speed of 21 knots, which is about 24 miles per hour.
Many consider Dilbar to be the smaller and the somewhat less pretty younger sister of the 377 foot long yacht, Pelorus, owned by another Russian tycoon, Roman Abramovich, who also owns Eclipse, the world's largest megayacht.