Paul Allen Yacht Octopus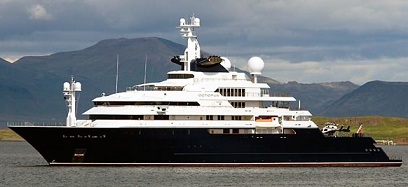 Octopus
is one of two mega-yachts owned by Paul Allen, the billionaire who co-founded Microsoft with Bill Gates in 1975.
When Paul Allen received his newly-built yacht in 2003,
Octopus
(right) was the largest yacht in the world:
Octopus
measures 414 feet (126 meters) in length and 361 feet (110 meters) at the waterline.
A cruising mega-yacht,
Octopus
is propelled by twin screws powered by eight Mercedes diesel engines with a total output of 19,000 horse powers. Paul Allen can cruise his yacht at speeds up to 20 knots.