Paul Allen Yacht Octopus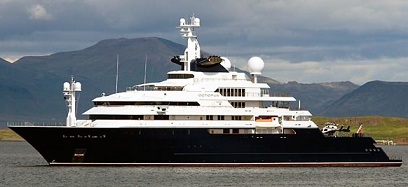 Octopus
is one of two mega-yachts owned by Paul Allen (Bill Gates and Paul Allen are the co-founders of Microsoft). When Paul Allen received his newly-built yacht in 2003,
Octopus
was the world's largest yacht:
Octopus
measures 414 feet (126 meters) in length (361 feet or 110 meters at the waterline).
This mega-yacht
Octopus
is propelled by twin screws powered by eight Mercedes diesel engines with a total output of 19,000 horse powers. Paul Allen can cruise his yacht at speeds up to 20 knots.
The exterior of
Octopus
was designed by Espen Oino, the renowned boat architect, and his team at EOI in Monaco. The interior was designed by Jonathan Quinn Barnett of Seattle, Washington in the United States, and the boat was constructed by Lurssen in Bremen, Germany.
Octopus comes loaded with not one but two helicopters, no fewer than six tenders, one manned submarine, one un-manned submarine, a swimming pool on deck, and enough luxurious creature comforts for the crew of fifty-seven to pamper up to twenty-six guests.