Dubai Yacht Interior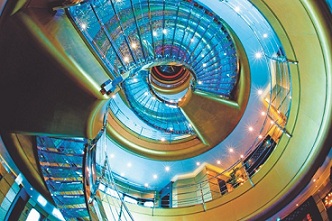 Dubai
is the second longest yacht in the world, after Eclipse. Measuring 530 feet (160 meters) and displacing over 9,000 tons,
Dubai
yacht is powered by twin screws propelled by four MTU 20V 1163 TB93 engines (the total thrust of
Dubai yacht
is an impressive 33,000 horse powers).
What is now
Dubai yacht
was first commissioned in the 1990s by Jeffrey Bolkiah, the billionaire playboy prince of Brunei, but the construction by Germany's Lurssen and Blohm & Voss shipyards stopped even before the hull and the superstructure were finished.
In 2001, the unfinished hull and superstructure of the
Dubai yacht
were bought by Mohammed bin al Maktoum, the Emir of Dubai and the Prime Minister of the United Arab Emirates, when he was still the crown prince. Emir Mohammed bin al Maktoum commissioned Platinum Yachts to complete the hull and the superstructure into today's megayacht. That work took 5 years.
Moored next to the summer palace of Emir Mohammed bin al Maktoum, the Dubai can carry over a million liters of fuel, has a range of 8,500 nautical miles, and can reach speeds of up to 26 knots.