Hotel Bible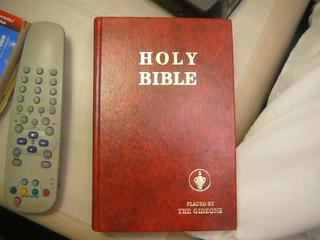 Instead of spending $10,000 to $25,000 a night to stay in a
famous hotel
suite with a swimming pool or gold chandeliers, why not just stay in a hotel and donate the money you save to Bibles?
I'm not talking about Gideon International's hotel Bible program. Launched in 1908, Gideon's hotel Bible program continues to be admirably successful. Thanks to their program, many if not most hotel rooms in the free world now have Bibles (right), which is great.
While Gideon's hotel Bible program should continue to be supported, so should those that deliver Bibles to countries that ban Bibles but where the underground churches desperately need Bibles.
For $1,000, 500 Bibles can be delivered to such churches, and for every Bible delivered, three more people on average come to believe in Jesus Christ as their personal Lord and Savior.
Please think about this. After all, do you really need a suite? If so, great suites abound for under $1,000. If not, $200 will get you a perfectly nice hotel room.